SUMMER
CAMP
2023
4 workshop gratuiti
Investimenti green
Investire nello spazio
Psicologia negli investimenti
Inflazione e recessione

Attenzione: se hai partecipato al webinar sugli investimenti green,
dovrai iscriverti al Summer Camp per avere accesso anche ai prossimi workshop
UN MONDO IN EVOLUZIONE
Resta sempre aggiornato
con i nostri workshop gratuiti!

Registrandoti al Summer Camp, avrai accesso ai 4 incontri live,
le registrazioni e i workbook in anteprima.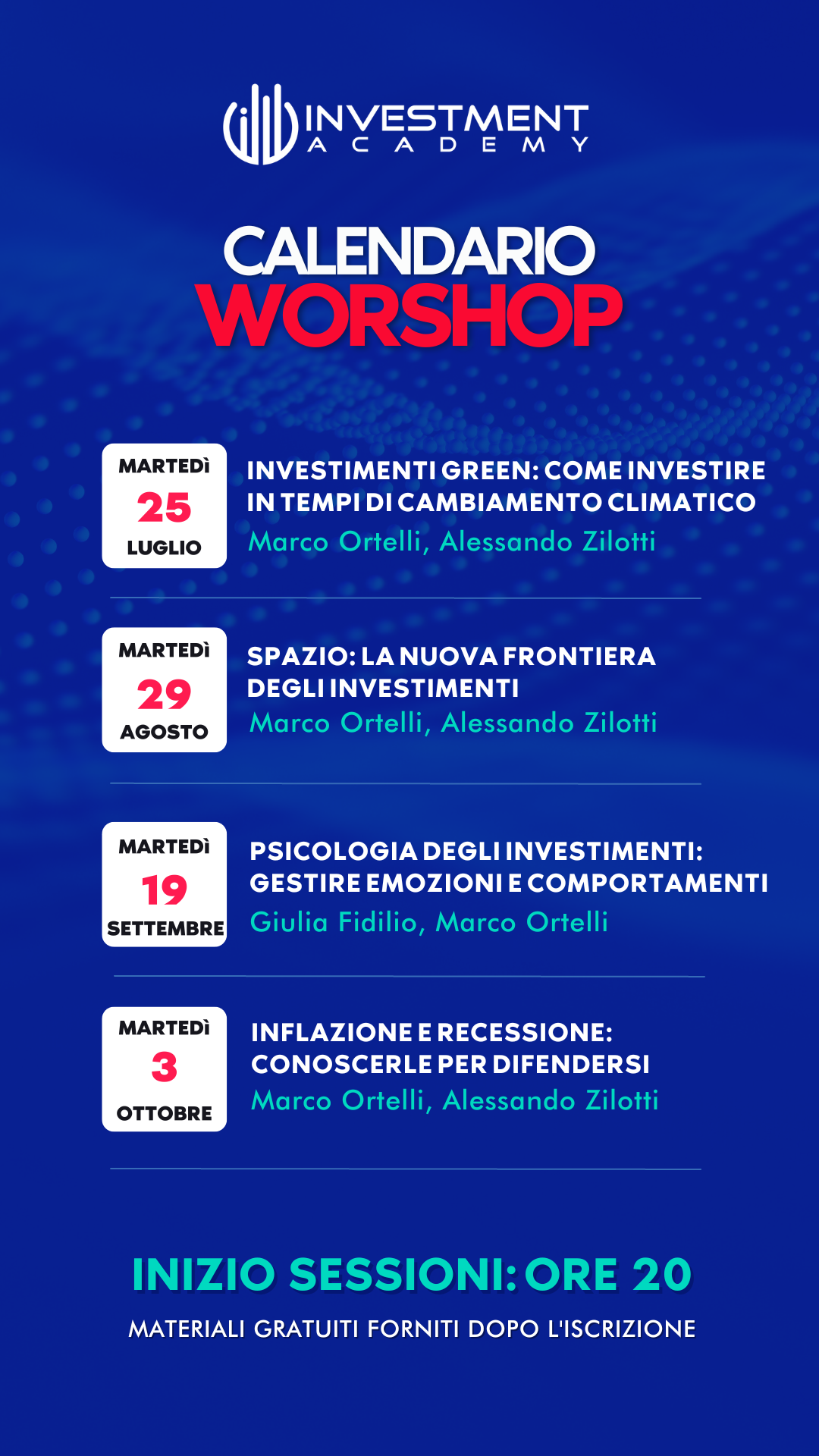 iL prossimo WORKSHOP
INFLAZIONE E RECESSIONE:
conoscerle per difendersi
Registrati per partecipare gratuitamente
Ecco di cosa abbiamo parlato nel webinar relativo allo spazio
Empty space, drag to resize
I TUOI INSEGNANTI
Empty space, drag to resize
"Mi impegno a rendere il mercato finanziario semplice e comprensibile, in modo che le persone possano comprenderne le dinamiche."
MARCO ORTELLI
CO-Fondatore di Investment Academy
"Come Financial Trainer ed Educatrice Finanziaria porto le persone a ridurre il gap tra la vita che hanno e quella che vogliono."
GIULIA FIDILIO
CO-Fondatrice di Investment Academy
"L'investimento è diventata una passione e lo strumento per raggiungere i miei obiettivi. Voglio condividere con te ciò che ho imparato."
ALESSANDRO ZILOTTI

Junior Coach

Non perdere questa occasione
Avrai la possibilità di conoscerci e approfondire argomenti
essenziali per un investitore di successo